The Institute of Quarrying Hong Kong Branch is a professional body which unites people of the industry throughout Hong Kong and PRC.
礦業學會 (香港分會)是一個專業團體,團結中國和香港同業內人士
Latest News
Welcome our New Fellow member (David Chen & Dan Ahern) - 歡迎我們的新會員
7 May 2019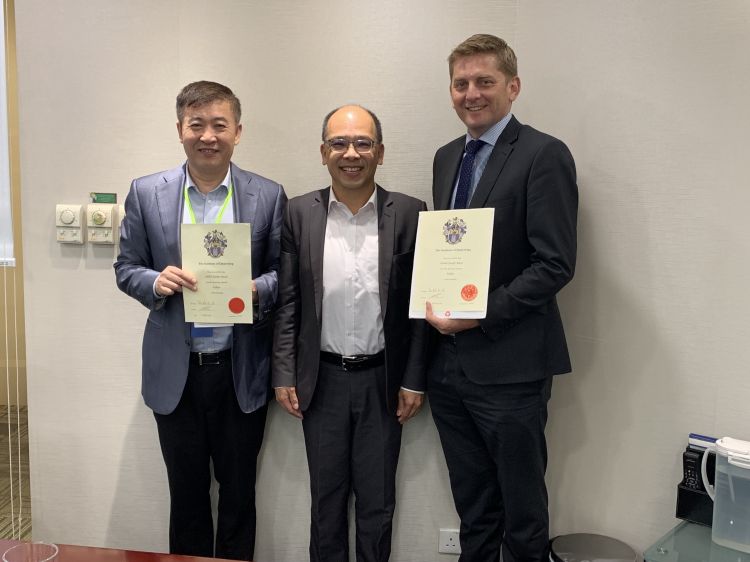 Obituary: Andrew Houghton F.I.Q - 訃告: Andrew Houghton
12 April 2019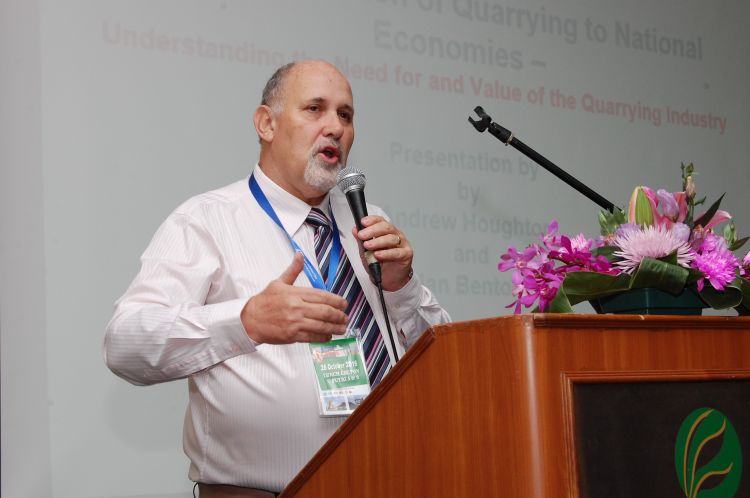 It is with great sadness that the Institute of Quarrying Hong Kong Branch have reported the death of Andrew Houghton, who passed away on 29 March having battled with cancer.
Andy Houghton was not only Chairman (1989) and a long serving Committee Member of the Hong Kong Branch, but also a founding member of the Institute of Quarrying in Malaysia (IQM). Andy, was a qualified professional Engineering Geologist and had been involved with the quarrying industry for over 40 years. In mainly consulting roles, specialising in large tunnelling and cavern geotechnical engineering he worked on a variety of major projects across the quarrying and mining industry in Asia, Australia and the UK.
As a passionate supporter of the IOQ, Andy published many technical papers throughout his career and was a much respected speaker at quarrying conferences, symposiums, and delivered wide-ranging training courses ensuring professional development among quarry practitioners, including training modules on Quarry Planning and Development, for the IQM, as part of their Quarry Managers Training and Certification Program.
As well as being very successful in his career, Andy used his talent to help others and, to that end, devoted much of his spare time as a lay preacher, undertaking charitable and pastoral works. A much valued and well-liked member of the Hong Kong Branch, Andy will be sorely missed.
令人非常悲傷的是,礦業學會(香港分會) 報告了3月29日因與癌症作鬥爭而去世的Andrew Houghton的去世。

Andy Houghton不僅是礦業學會(香港分會) 1989年的主席,也是礦業學會(香港分會)的長期服務委員會成員,也是礦業學會(馬來西亞分會)的創始成員。 Andy是一名合格的專業工程地質師,並從事採石業40多年。他主要從事大型隧道和洞穴岩土工程方面的諮詢工作,曾在亞洲,澳大利亞和英國的採石和採礦業開展各種重大項目。

作為礦業學會的熱情支持者,Andy在其職業生涯中發表了許多技術論文,並且是礦業學會,研討會的備受尊敬的演講者,並提供了廣泛的培訓課程,確保了礦場從業者的專業發展,包括礦場規劃和開發的培訓。

除了在他的職業生涯中非常成功之外,Andy還利用自己的才能幫助他人,為此,他將大部分業餘時間用作外行傳教士,從事慈善和牧靈工作。是礦業學會(香港分會)非常有價值和受歡迎的成員,我們非常懷念Andy。
Field Visit - Lam Tei Quarry (實地考察 - 藍地石礦場)
29 March 2019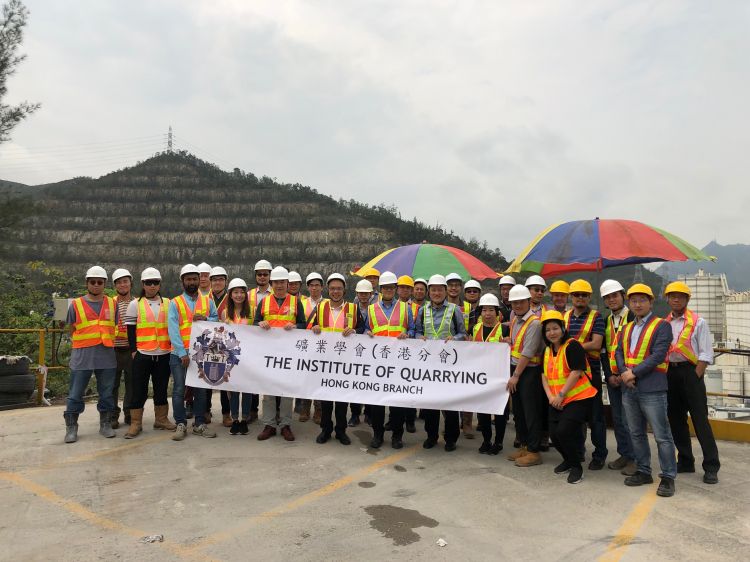 The 46th IOQ HK Branch Annual General Meeting - 礦業學會 (香港分會) 第46屆年度會員大會
11 March 2019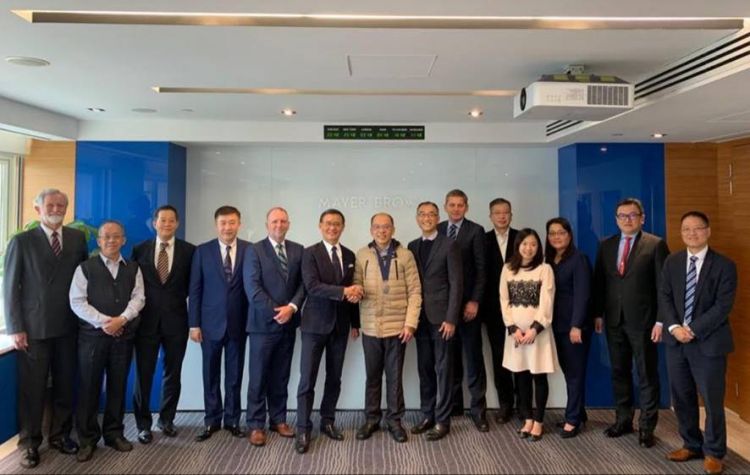 IOQ Gala Dance - 礦業學會週年晚宴
14 February 2019
The 46th Gala Dinner of the IOQ Hong Kong Branch was again held at the Kowloon Shangri-La Hotel, Tsim Sha Tsui, on Saturday 1st December 2018. The evening was extremely well attended with over 380 guests, including honored VIP's, IQ Members, partners and guests.
Mr. Alfred Chan, Branch Chairman, gave the welcoming address to our guests and local members, and also thanked the many sponsors for their generosity, without which the evening would not have been such a great success. Commenting on what had been another successful year for the Branch, Mr. Chan urged all present to encourage new members to join, outlining the many benefits of Branch Membership.
In keeping with popular tradition our themed evening this year was "Cirque Du IOQHK", which provided for much creativity and entertainment. Guests were welcomed by a red carpet 'Balloon Arch' cocktail reception, which offered a great venue for networking with business partners, colleagues, and old friends, photo taking opportunities, and game booths. The circus theme was extremely well received, providing guests with a visual performing art as Council Members wore "Cirque Du IOQHK" dress code; acting in different characters with colorful props and decorations. The evening continued with a sumptuous meal accompanied by our very lively host, Mr. Harry Wong, who entertained our guests with mind-blowing magic and illusions. Music was provided by a seven-piece live band, professional dancers, table games and of course, our now famous tombola, concluding the evening with a MacBook Pro 13" first prize!
With wonderful entertainment, fantastic company, and tremendous Branch support, the evening will be remembered for a long time as one of the best hosted by our Branch. Your committee members will look forward to the challenge of making our 2019 Gala Dinner even more enjoyable.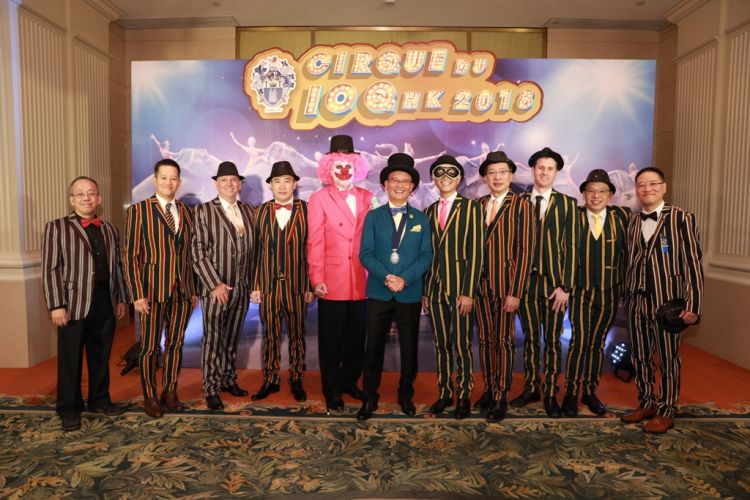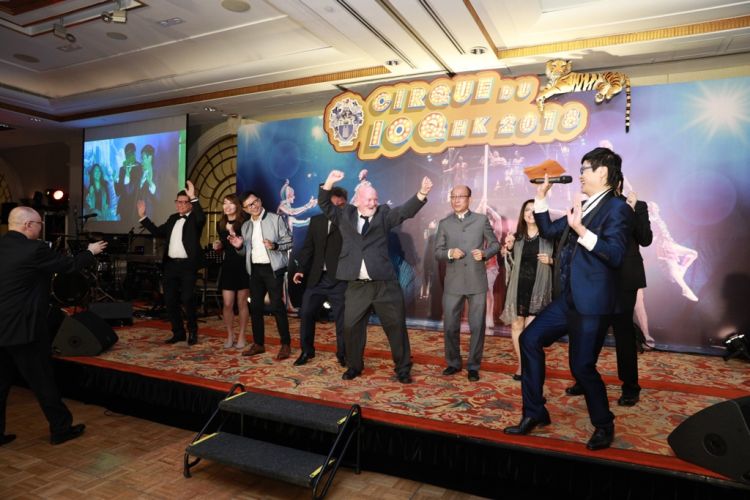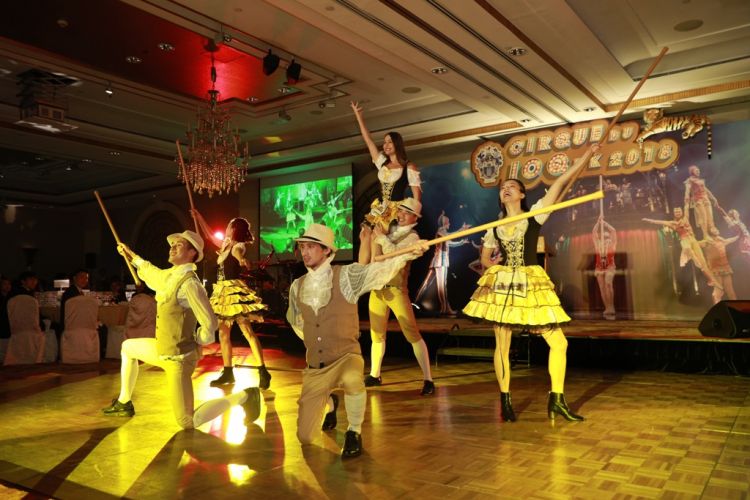 2018年12月1日 (星期六),尖沙咀九龍香格里拉大酒店再次舉行第46屆礦業學會 - 香港分會晚宴。晚會參加人數超過380人,包括貴賓、會員、合作夥伴和客人。
礦業學會 - 香港分會主席Mr. Alfred Chan陳先生向我們的嘉賓和會員致歡迎辭,並感謝眾多贊助商的慷慨,沒有這些贊助商,晚會不會取得如此巨大的成功。陳先生在評論該分行的另一個成功年份時,陳先生鼓勵新成員加入,並概述香港分會會員的許多好處。
為了與流行傳統保持一致,今年我們的主題晚會是"Cirque Du IOQHK"( 馬戲團主題),提供了很多創意和娛樂。紅地毯、"氣球拱門"及雞尾酒會迎接客人,這提供與商業夥伴,同事和老朋友建立聯繫,拍照留影和遊戲攤位的絕佳場所。馬戲團主題非常受歡迎,為客人提供視覺表演藝術,因為委員會成員穿著馬戲團服裝;用鮮豔的道具和裝飾品扮演不同的角色。晚上繼續享用豐盛的晚餐,伴隨著我們非常熱鬧的主持人Mr. Harry Wong,他用令人興奮的魔術和幻想來招待我們的客人。音樂由七人現場樂隊、專業舞者、桌上游戲、當然還有我們現在著名的tombola提供,晚宴以MacBook Pro 13"一等獎結束!
憑藉精彩的娛樂,極好的公司和礦業學會香港分會的大力支持,這個晚會將作為我們分行舉辦的最佳活動之一, 長期被人們銘記。委員會成員將期待2019年的晚宴更加愉快及成功。
IOQ Branch First Committee meeting & Committe dinner 礦業學會 (香港分會) 第一次委員會會議及晚宴
15 January 2019
2018 IOQ International Presidents Meeting & IOQ NZ Conference (2018礦業學會新西蘭會議以及礦業學會國際總會會議)
25 July 2018
The 2018 IOQ New Zealand conference, together with the IOQ International Presidents meeting this year was held in the week of 16th July in the beautiful city of Hamilton New Zealand. Our Chairman - Mr. Alfred Chan attended this function on behalf of IOQ Hong Kong, which a tradition of the IOQ International routine. This year the theme for the IOQ New Zealand Conference is "50 Years and Beyond - Embracing Future Technology in our industry". Numerous professional papers were delivered by the industry experts during the conference, and besides, functions were being held to celebrate the 50 years anniversary of IOQ in New Zealand. Our Chairman attended the International Presidents Panel Discussion section and addressed an update on the future development of the quarrying industry in Hong Kong, and in particular the importance of our bridging function on the Guangdong quarrying opportunities.
The function ended with an amazing Gala dinner held in the Claudelands Convention Centre attended by almost 400 delegates. Enclosed is a photo of the International Presidents with a background of a latest model of mobile equipment of an exhibitor. The International Conference and IOQ Presidents meeting next year will be held in Durban, South Africa in April 2019.
2018礦業學會新西蘭會議以及今年的礦業學會國際總會會議於7月16日在美麗的新西蘭Hamilton(漢密爾頓)舉行。我們的主席 – Mr. Alfred Chan陳先生代表礦業學會 (香港分會)參加了這項活動,這是礦業學會國際慣例的傳統。今年礦業學會新西蘭會議的主題是"50年及以後 - 在我們的行業中擁抱未來的技術"。行業專家在會議期間發表了大量專業論文,此外,同時慶祝新西蘭礦業學會成立50週年的活動。我們的主席出席了國際總會小組討論,並介紹了香港採石業未來發展的最新情況,特別是我們的銜接功能對廣東採石機會的重要性。
活動以Claudelands會議中心舉辦的盛大晚宴結束,共有近400名代表參加。隨附一張國際總統的照片,背景是參展商的最新型號移動設備。明年的國際會議和礦業學會主席會議將於2019年4月在南非德班舉行。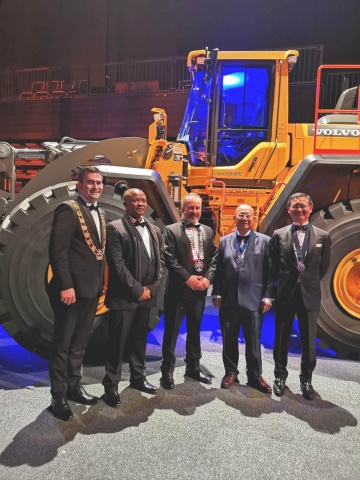 Lunch Presenation - Challenges and Opportunities of New Quarries in Hong Kong (香港新採石場面臨的挑戰和機遇)
22 June 2018
The Branch was delighted to host a lunch presentation on the 22nd June; with a presentation by Ir Clayton Chan, Executive Director, Geotechnical of AECOM Hong Kong, on the Challenges and Opportunities of New Quarries in Hong Kong.
AECOM is a multinational consulting firm which not only design, build, finance and operate infrastructure assets across the world, but have many decades of experience working in Hong Kong, including studying the future of the territories quarries.
In his presentation, Ir Chan outlined the locations of the sites currently under consideration by the government, including the challenges and opportunities presented for each. Members found the presentation to be extremely interesting and informative, which stimulated a lot of questions from the audience. Mr. Alfred Chan, Chairman of the HK Branch, gave a vote of thanks to Ir Chan, and presented him a token of appreciation.
Following the talk, Branch members and guests then enjoyed a sumptuous buffet lunch, with a special note of thanks to Mr. Geoffrey Chan, partner of Mayer Brown JSM, who arranged the menu and contributed the excellent venue.
香港分會很高興在6月22日舉辦午餐會;由AECOM執行董事香港岩土工程師Ir Clayton Chan介紹香港新採石場的挑戰和機遇。

AECOM是一家跨國諮詢公司,在全球涉及業務範圍有設計,建造,融資和運營基礎設施資產,而且擁有數十年在香港工作的經驗,包括研究領土採石場的未來。

在演講中,Ir Chan概述了政府目前正在考慮的的地區位置,包括為每個地區位置提出的挑戰和機遇。成員們對這次演講深感興趣而且內容豐富,引起了觀眾的很多疑問。香港分行主席陳先生十分感謝陳先生的演講,並向他表示謝意。

演講結束後,分會會員和嘉賓們共同享用了豐盛的自助午餐,並特別感謝孖士打律師行的合夥人Geoffrey Chan的安排及提供一個優秀的場地。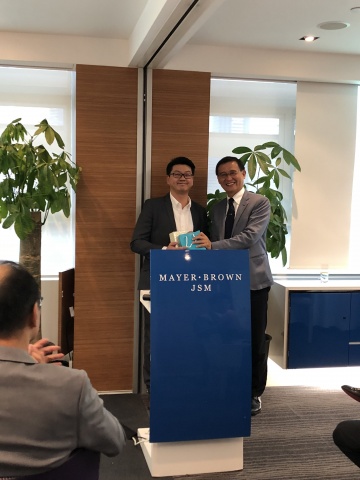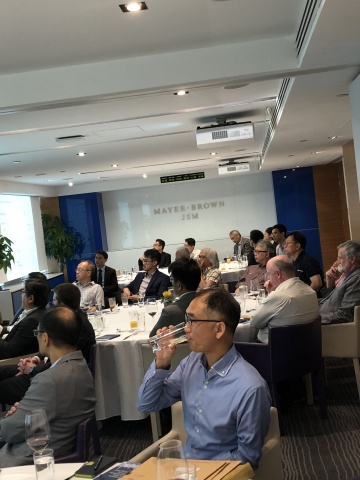 Shell Value Card - 蜆殼超值卡
9 May 2018
Further to our announcement for the launching of the e-membership, we are pleased to introduce the Shell Value Card exclusively for you as the members of IOQ to get more benefits. You can get instant discount on gasoline of HK$ 2.2/L at any Shell stations in Hong Kong (except airport stations) and other benefits when you show your "IOQ Shell Value Card".
For more details, please see the announcement on the 'Publications' page. http://www.quarry.org.hk/publications/
If you have not registered yourself for the e-membership card yet, please check your e-mail inbox (or junk / spam) for the link for activating your membership card.
If you cannot find the mail, just go to the membership page and click "Forget Password?" and the system will send a new activation link to registered e-mail address.
繼我們宣布推出電子會員資格後,我們很高興你作為礦業學會 (香港分會)的成員, 並專門為您介紹"蜆殼超值卡"以獲取更多利益。 在展示您的"礦業學會蜆殼超值卡"時,您可以在香港任何蜆殼油站(機場站除外)獲得每升2.2港元的汽油折扣和其他優惠。

有關更多詳情,請參閱"礦業學會 (香港分會)"網頁上'Publications' (出版物) 的公告。
http://www.quarry.org.hk/publications/

如果您還沒有註冊自己的電子會員卡,請檢查您的電子郵件收件箱(或垃圾郵件)以獲取激活會員卡的鏈接。

如果找不到郵件,只需進入礦業學會 (香港分會) 網頁的會員頁面並點擊"忘記密碼?",系統將發送一個新的激活鏈接到註冊的電子郵件地址。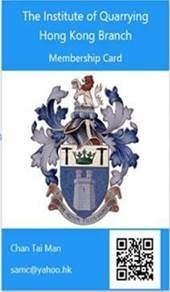 The 45th IOQ HK Branch Annual General Meeting - 礦業學會 (香港分會) 第45屆年度會員大會
6 March 2018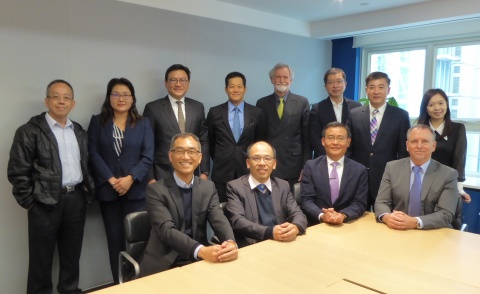 IOQ Branch First Committee meeting - 礦業學會 (香港分會) 第一次委員會會議
19 January 2018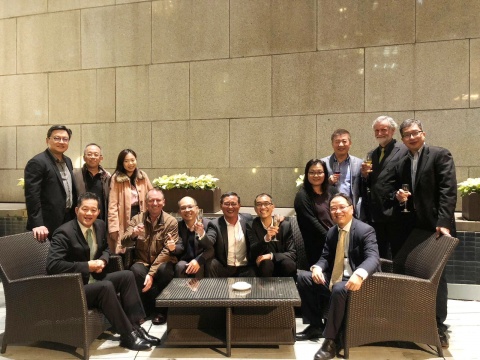 The first IOQ Branch Committee meeting for 2018, was held on the 19th January, at The Sports Club, South China Building, Central. Following the meeting, IOQ Hong Kong Branch Chairman, Mr. Alfred Chan, hosted committee members to a celebration dinner, and thanked the committee for a very successful 2017. Committee Members can be seen raising a toast to all our Branch Members, whishing everyone joy, peace and prosperity, for the coming year of the Dog.
2018年礦業學會 (香港分會) 第一次委員會會議於1月19日在香港中環中南大廈體育俱樂部舉行。 會議結束後,礦業學會 (香港分會)主席陳先生主持並與委員會成員舉行慶祝晚宴,並感謝委員會2017年的負出及取得非常成功。 委員會成員向所有會員敬酒,預祝大家狗年快樂 ,新年進步。
Lunch Presentation - New Technology in the Quarry Industry and Future Quarry – Multi Action Crusher & VisioRock
12 January 2018
On the 12th January 2018, the IOQ Branch held its first technical lunch presentation at the Regal Kowloon Hotel, entitled; New Technology in the Quarry Industry and Future Quarry – Multi Action Crusher & VisioRockTM, which was presented by Mr. Campbell Johnston, Director, Sales and Support Systems from Metso. Mr. Johnston delivered a very informative presentation on future challenges facing the quarrying industry and their new revolutionary MXTM cone crusher which combines the piston and rotating bowl into a single machine, providing significant improvements in profitability by cutting operational costs. Mr. Johnston also described the Metso VisioRockTM system, which though photogrammetry analysis enables instant assessment of particle size distribution on a product belt, allowing 'real time' crusher adjustment to optimise product yield.
The Branch was also delighted to welcome, Mr. Markku Simula, President, Aggregates Equipment, Metso Minerals Inc., and Mr. Xiaofeng Liang, SVP, Metso (China). Following a lively Q&A session, Branch Chairman, Mr. Alfred Chan, proposed a vote of thanks and presented Mr. Johnston with an IOQ souvenir. The event was very well attended with 34 members and guests, enjoying the presentation and following three-course lunch.
Events
30 November 2019
Annual Dinner 2019
The 47th IOQ Anniversary Gala Dinner, will be held on the 30 November 2019, at the Kowloon Shangri-La.
29 March 2019
Field Visit – Lam Tei Quarry (實地考察 - 藍地石礦場)
9:30am to 12:00pm
Venue: Lam Tei Quarry
11 March 2019
The 46th IOQ HK Branch Annual General Meeting
1 December 2018
Annual Dinner 2018
The 46th IOQ Anniversary Gala Dinner, will be held on the 1st December 2018, at the Kowloon Shangri-La.
7 September 2018
Field Visit - Hong Kong International Aviation Academy (實地考察 - 香港國際航空學院)
9:00am - 12:00pm
Hong Kong International Airport
22 June 2018
[Technical Lunch Presentation]
Challenges and Opportunities of New Quarries in Hong Kong
12:00 - 14:30
18/F, Mayer Brown JSM office
6 March 2018
The 45th IOQ HK Branch Annual General Meeting


12 January 2018
[Technical Lunch Presentation]
New Technology in the Quarry Industry and Future Quarry - Multi Action Crusher & Visiorock
12:00 ~ 14:30
Regal Kowloon Hotel